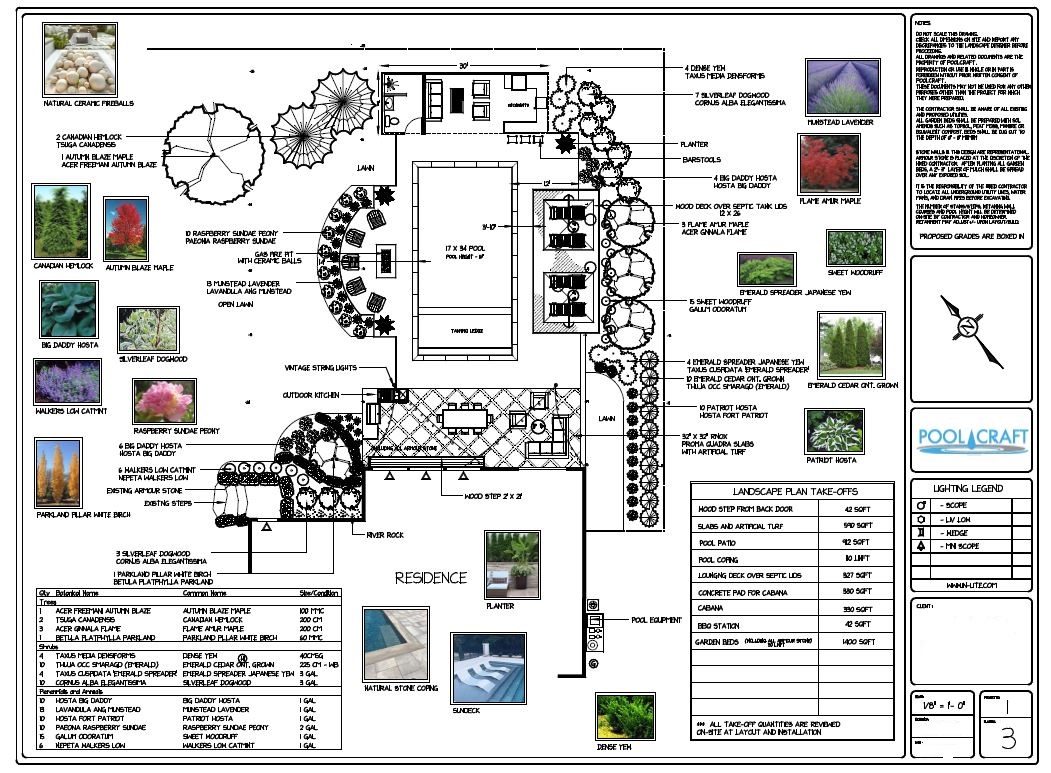 Planning a backyard renovation? Whether it's adding a pool, an outdoor living space, or landscaping, there are many things that will influence how your space comes together to become that perfect spot for you to enjoy for years to come.
As a significant investment, your outdoor project needs to start with a plan. An effective landscape design incorporates the functionality of the space, the environmental factors, and the local municipal by-laws, all while working with your personal style and vision.
We're going to break this down for you in a three-part design feature.
Part one will focus on pools, part two on landscaping, and part three on structures.
In the end, you'll have a concise list of what's needed for you to put together your perfect design plan!
Part One: The Pool
If your plan includes a pool, this is where you should start. Most other design features will be situated around the pool, and due to the intrusive nature of the excavation process, it's most cost-effective to dig your pool before anything else.
Permits can take a while and are required for all pool builds.
Is A Pool Even An Option For My Address?
Before diving too far into the idea of a pool, make sure there are no restrictive covenants that apply to your address.
Conservation areas, greenbelts, floodplains, and other environmental issues may not permit the installation of a pool.
Finding out is easy; contact your local municipal office and they can advise you of any limitations based on address.
Why Do You Want A Pool?
Close your eyes and imagine a beautiful July day, poolside. Perhaps your laptop and coffee sit under a shady pergola, while you start your day swimming laps? Maybe you've lined up private swimming lessons for the kids in the afternoon, or friends are coming by for dinner, alfresco style, and a late-night dip?
Before designing your custom pool, consider how you'll use it. Are you hoping to entertain friends and family members? Relax and lounge? Exercise and do laps? Or all the above? How you wish to use your pool will determine what shape, size, and profile you choose.
Shape, Size and Profile
Pool Shape is often an aesthetic choice. If you prefer clean lines and a simple design, a rectangle pool with square corners is a hot ticket right now. This maximizes the actual square footage and surface area covered in water. If a more natural look is what you're after, a curvy freeform pool with radius sides is your best choice.
Check out these Pool projects for popular options.
Pool Size is often determined by the size of the yard, the municipal requirements and your 5-year plan.
Setbacks always have to be considered. All swimming pools, equipment pads, hot tubs and outdoor structures must comply with setback distances from fences, windows, neighbours houses, and property lines in accordance with the Zoning By-law. This is specific to your area.
Consider the other uses for your space and ensure you're thinking at least 5 years down the road. Are you planning a family or hoping to get a pet? Are you planting trees or greenery that will need more space eventually? Or do you have outdoor living space on your wish list as well?
Pool Profile is often overlooked until your design is almost complete, but it's a pretty critical part of your experience. The pool profile refers to the bottom of the pool, "the envelope."
Pools are classified into two categories, diving and non-diving.
The length, slopes and depth in your pool have to create a safe distance, free from obstructions, for the pool to be designated as a diving pool.
Shallower options, sport profiles, wedge profiles are generally non-diving, and make up about 90% of the pools out there today.
Pool Position In Your Yard
Natural elements such as sun exposure, wind levels, elevation, and neighbouring trees can all impact your design.
Will your pool have all-day sun or shade, and how will this impact use? Consider an in-pool umbrella or sail shade if you have no relief from the sun.
Debris can make balancing water a real chore, so consider placing your pool away from neighbours trees, when you have little control over what's coming off them.
Elevation can also be tricky when building a pool. A sloping yard may require a large retaining wall with additional drainage. The pool may also be built a bit higher in the ground to offset a big change from one side of the yard to the other.
While you may want your pool set back further in your yard, be aware that pools placed further away from a home means longer plumbing and electrical lines are required. Ultimately, this means more money.
Consider the budget when you're determining the placement of your pool and the equipment pad.
Ideally, your pool won't take up your entire backyard — it will fit into the aesthetic and style of the backyard patio where landscaping, patio work and extra features combine to give you the perfect outdoor space.
Steps, Ladders & Customizations for Getting in and Out
Steps and ladders work as entry and exit points for your pool. From a design standpoint, the options are endless. You can have fiberglass steps that extend outside of your pool profile or build a step inside the pool, for a more seamless look.
Ladders are typically placed on one side of the deep end, used to climb in and out of the deep end. This is both functional and safe. Having an exit point in the deep end of the pool is a smart option that provides an additional level of safety as well.
You can add a bench to the deep end in lieu of a ladder, providing both an exit point, as well as a spot to chill (or jump from!).
Sun ledges have also grown in popularity as a platform for in-water loungers, or an extension to an in-pool step. Much like a bench, they are great for hanging out on, or for the kids to play on. When the kids outgrow it, add those chairs and relax and read a book while cooling off at the same time. They are customizable, so get creative.
Design Elements
Spill Over Spas integrate with your pool water system, circulating the pool water through the spa and back into the pool. They don't heat up like a stand-alone spa but can run off the same equipment as your pool, making them a less expensive option. They are also great for a relaxing soak after a great workout, or for hopping between temperatures. It's worth noting that spillover spas don't heat up like a stand-alone spa.
Water Features are a common addition in today's market. There is nothing quite like the soothing sound of water and the visual dance of fire. There are so many beautiful options that add ambiance and a next-level element that really showcases your personal style. Laminar jets, Deck jets, Bubblers, Sheer Descents, Spigots, Rain Walls, Custom Natural Waterfalls, Grottos, and Fire Bowls are some of our favourites. We really need a blog focusing on these alone. Look for that in 2022.
Liners are required in all Pool Craft pools. There are a variety of liner colours available that dramatically change the look of your pool. From white-based liners that produce aqua-coloured water to dramatic black liners that create an abyss, the variety is vast and beautiful.
Pool Safety
"Safety First" has been drilled into you your whole life, especially when it comes to adding a swimming pool to your backyard. You must make sure your pool is safe to be around when it is not being used, and when being used by any person – supervised or unsupervised.
Do you have a gate and fence? Or will you need to build one? Most municipalities in Ontario require 4-sided fencing, with a self-closing/self-latching gate. The height of the fence varies by municipality.
Review Pool Safety Laws In Ontario Bill 74 2006. In this Act, "swimming pool" means an in-ground swimming pool. According to this law, every owner of a swimming pool must:
Ensure that a fence is constructed and maintained around the area of the swimming pool.
Ensure that the fence surrounding the swimming pool is constructed and maintained in a manner that is sufficient to keep children away from the area immediately around the pool and is equipped with a gate that locks.
Ensure that the gate is kept locked at all times except when an adult is present in the area immediately around the pool.
Contact your local municipality for full details.
Getting Started With Pool Craft
At Pool Craft, our design options provide the ultimate insight into your project.
Check out our contract for more information.
Are you ready to get started?!
Request a quote or reach out to talk to our team today!