Imagine walking outside in the spring only to discover that your swimming pool has been thoroughly beaten up by winter. Instead of going for a swim you'll need to open your wallet to get it back into working condition!
Fortunately, this doesn't have to happen. The best way to keep stains and damages from occurring during the winter months is to make a plan for preventative maintenance and regular checkups so that your investment remains spic and span, despite the icy blizzards and frigid winds.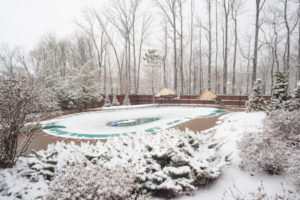 Drain water from pipes and equipment
Water, cold weather, and pipes don't get along well. Without paying specific attention to draining water from your pump, pool heater, and filter, you can count on some hefty repair bills come summertime.
Add algaecide before closing the pool
Using an algaecide can play a huge role in preventing the growth of algae throughout the winter. It's a good idea to add this to the water shortly before closing it for the winter. Make sure the pump is running so that the algaecide can circulate through the water.
Follow the instructions provided on the brand of algaecide that you use. It will let you know how long the product is expected to be effective for. You may need to add more to the water part way through the winter.
Make sure your winter pool cover is properly fitted
A winter pool cover has the important role of keeping leaves and other debris out of your pool. Without a cover, your pool and liner would take a significant beating.
A pool cover needs to be properly fitted and installed in order to provide protection. Custom swimming pools can come in any variety of shapes, and it may require working with a local pool company to fashion a pool cover that fits.
Lastly, you'll want to make sure the cover is installed so that it can withstand wind, snow, and ice. You can read more about winter pool covers on our blog.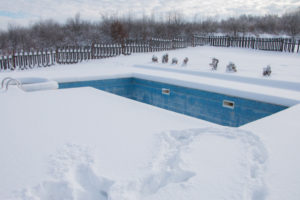 Keep the cover clear over winter
Even after your pool is neatly bundled up, you still will need to dedicate some time to keeping the cover clear. You should regularly check the cover, especially after storms, to make sure it is still doing its job. This will also give you the chance to sweep away debris that could cause damage to the pool or the cover itself.
Regularly check your water and equipment throughout the winter
If you want to save yourself the time while also ensuring the job is done right, you can consider a winter check service. For this service, your local pool contractor will send a technician who can check all the vital details for an extra guarantee that your pool is holding up well to the cold. Simply get in touch with your local pool company for this peace-of-mind service.