Our Summer Feature Product:
The P935 Polaris Robotic Pool Cleaner
$1349.00 + HST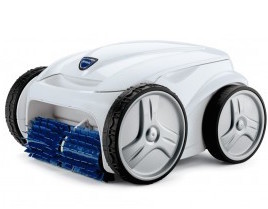 Pool Craft is featuring the Polaris P935 Cleaner this month!
Unlike other leading pool cleaners, the Polaris does not need to be hooked up to your skimmer, as it operates on its own power source. The Polaris has a micro chip that maps out your pool which allows it to clean the floor, walls, and climb stairs! This energy efficient cleaner is also easy to clean as it comes with its own filter canister!  The P935 is hassle free, with the press of a button it drops to the bottom, or floats to the surface upon completion of cleaning so it can be easily retrieved and stored.
The P935 has a self-contained cleaning system that eliminates debris traveling through your system during the cleaning process
Vortex Vacuum Technology-Best vacuum power and performance
Easy Access Filter Canister- Simple debris removal
Wall Cleaning- Climbs walls and scrubs tile line
Easy Lift System- Quick and easy removal from pool
The P935 comes with a 3 year warranty when purchased at a brick and mortar store