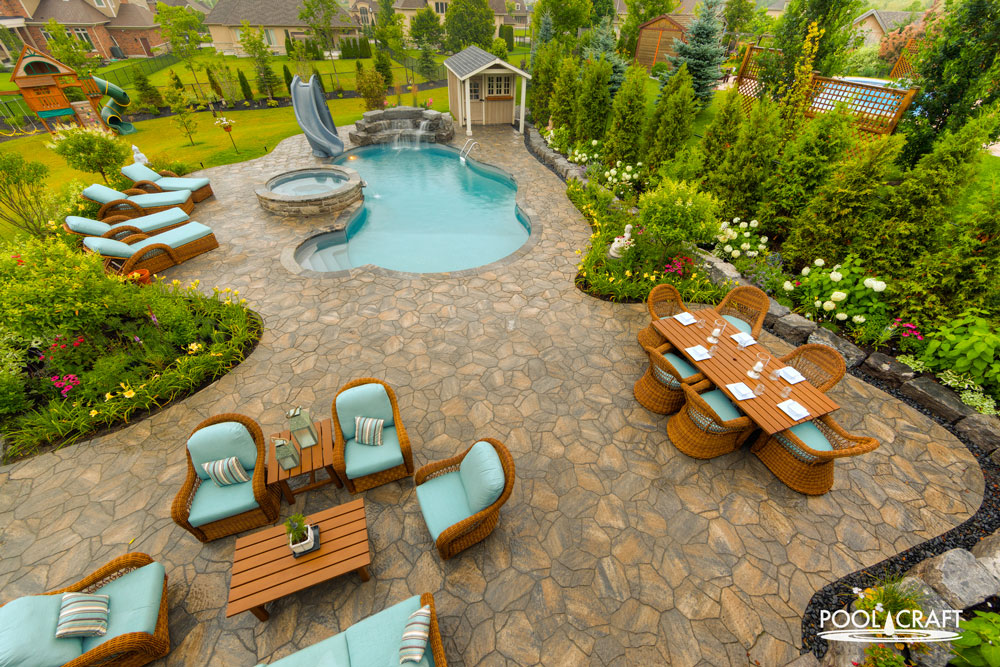 We are absolutely thrilled with our new outdoor paradise! Poolcraft handled every aspect of our pool design and within 6 weeks we went from empty deserted backyard landscape to absolutely stunning jaw dropping backyard. The staff was so professional and hard working and there were days they didn't stop for a break. They promised us a pool by the beginning of summer but they gave us so much more! We have an incredible backyard that has now become the family gathering place away from televisions, computers or devices. I highly recommend Pool Craft for your new dream space, & given the chance to do it all again I would choose Pool Craft again and again! Thanks Jason, John, Curtis and all the guys behind the scenes that made it seem so easy.
---
Jennafer
Uxbridge
View Project
---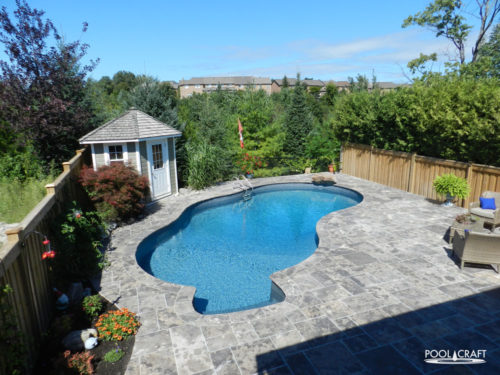 The contractors that originally did the landscaping work around our pool 15 years ago did a poor job and the stone was lifting to the point that it became a tripping hazard. Also, our 17 year old deck was starting to rot in places, so we decided it was time to renovate.
Pool Craft looks after our pool openings and closings, and is there for us in the event of any emergency, and their sister company, Stone Craft, does their landscaping work. The owner, Jason, took stock of our ideas and came up with some suggestions that sounded good, so we had them do a design. When listening to him describe their construction techniques, we felt confident that they could do work that would last for many years to come.
We basically had everything in the back yard removed except the pool, a cabana and one tree, with the work starting in late fall a year ago. Jason has two foremen who are incredibly talented and tremendously patient. Chris looked after the new composite deck we had installed, and Curtis was in charge of the stonework. We were so impressed with Chris's work ethic and he had many ideas and suggestions that enhanced the look of the deck. The fact that Curtis spent so much time in prep work eased our minds as to how the stonework would turn out. And Jason was constantly available to ensure that all was running smoothly. They were so flexible and open to any changes that we thought would work better than originally planned. The stone suggested by Jason turned out to be spectacular, and the landscape lighting is gorgeous.
We now have a backyard oasis that is a beautiful extension of our home. We 'd recommend Pool Craft + Stone Craft to anyone considering new landscaping work, or a renovation, pool or no pool.
---
Penny F.
(Homestars)
View Project
---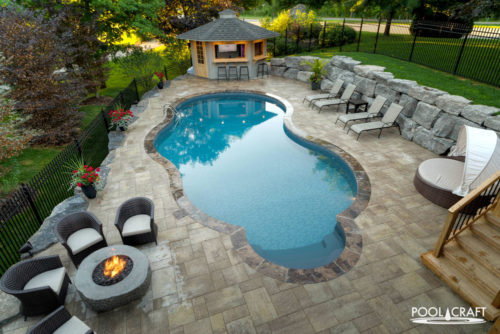 I would recommend Pool Craft to anybody looking to put in a pool. Jason, Kevin and Chris provided first class, attentive and timely service from the initial consultation to the completion of the project. We are delighted with our pool and appreciated the suggestions and attention to detail offered.
Our family now has a transformed backyard that will be enjoyed for years.
A big thank you to Team Pool Craft!
---
David M.
Newmarket
View Project
---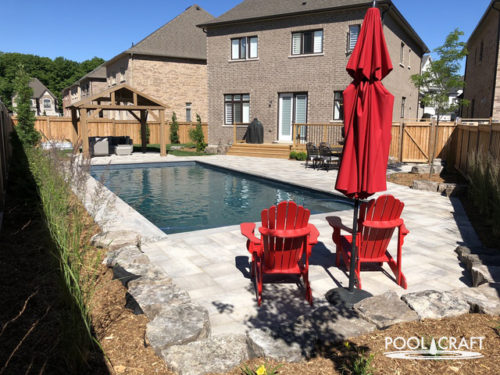 I want to preface this review by apologizing for its length but, a pool is a significant investment and certainly warrants a bit more depth. Our Pool Craft experience in a word, was AWESOME! I hope my review reflects what a positive experience we had with working with them.
Over the past couple years, my wife and I were considering an inground pool for our back yard. I spent a fair bit of time researching various companies but landed on Pool Craft based on positive feedback from our landscape designer. As it turns out, we met a couple other families through community engagements who shared their very positive experiences about their Pool Craft pools which sealed it for us. If you've spent any time reading various pool company reviews you'll quickly realize there are a ton of horror stories – not Pool Craft. Pool Craft was one of the few pool companies who didn't have any 'horror story' reviews – they were all positive.
Having never owned a pool, our salesperson Rick spent a considerable amount of time walking us through everything. Rick was the consummate professional and at no point did we ever feel pressured. What most impressed me during the pre-sales process was the confidence they had in their work. A lengthy list of references was provided to us up front, along with the offer to visit however many Pool Craft installed pools we desired. Throughout the process we made a number of modifications to width, length etc which surely would test the patience of anyone. Rick's patience, responsiveness and professionalism was incredible.
Prior to putting a shovel in the ground, Pool Craft assigned a Project Manager (Chris) who spent an enormous amount of time going through the process and what we should expect at each stage – from the dig to the installation of the liner. Chris would check in with us daily with an update on what they were doing and what their plans were the following day. Chris was an incredible and unexpected service that provided us with a ton of value.
The construction of the pool was astonishingly efficient. The hole was dug, metal frame and cement installed, plumbing, electrical, coping was all completed in 5 days! Pool Craft has a team for each aspect of the build and they executed flawlessly. With respect to the workmanship, it is impeccable. We used Pool Craft's electrician and gas fitter for the installation and both were excellent. My father is a retired master electrician and was really impressed with the electrical work as it was meticulous, clean and all labeled.
Tomorrow we're getting our liner, water and start-up. Chris has already scheduled a couple hours with us to attend what he calls "Pool School" where we'll learn all the aspects of pool ownership – Again, going above and beyond our expectations.
I honestly can't say enough about the folks at Pool Craft. My wife and I would unequivocally recommend Pool Craft in a heartbeat…in fact, we already recommended them to our neighbors who are looking to install a pool in 2019. We already happily have added our names to the list of reference they can call upon as a customer reference.
---
Chubbychicken
(Homestars)
---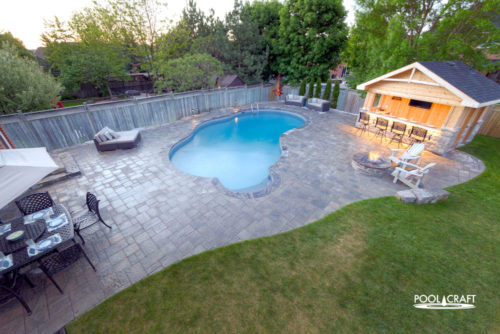 Hi Jason,
I wanted to thank you for the complimentary pool cleaning yesterday morning. I am not sure if it is something that you normally do for new pool owners or did it have something to do with the fact that you knew we were celebrating Nick's 40th birthday party on Saturday night?
Either way, it was very much appreciated. Your organization is so professional and it is the little things that make all of the difference.
The party was a huge success, at one point we counted 16 adults in the pool and there was still lots of room. Everyone was so complimentary over the pool and backyard design. We sang your praises the entire night. We are doing our best to drum up more business for you and your team!
Thanks again.
---
Michelle & Nick
Newmarket
View Project
---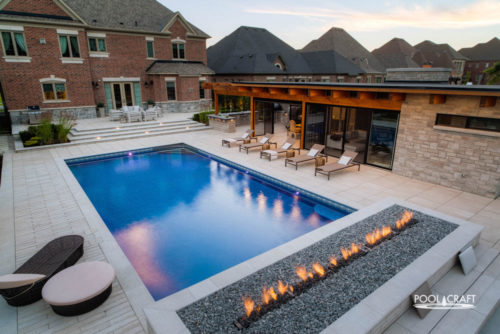 Recently I hired pool craft to construct a pool and cabana for my backyard. I was referred to them from a friend and at first, I was a bit apprehensive due to my lack of knowledge with pools. They not only overachieved, providing me exceptional service but they also educated me throughout the process. I felt that I made the right decision when I hired Pool Craft and I would highly recommend them to anyone looking for a professional and trustworthy pool company.
---
Dinunno71
King
View Project
---
Next to a house, a pool is the most expensive investment that we have made.
Knowing little about the construction process and having no contacts in the industry, it's a "scary" if not daunting task, selecting the right company.
We narrowed our choices to two companies, based on colleagues' experiences and final quotes. From the outset, I was very impressed with Pool Craft; Professional and personal in their approach; How does a company survive without advertising and solely by word of mouth? They must be really good; Price was fair and more than competitive. So we chose Pool Craft.
Jason promised us a completed date and finished in advance. Communication was fantastic throughout the entire construction process and I always felt that we were a valued customer. Jim and everyone associated with the crew that completed the "hands on" construction of our pool were fabulous.
Everyone was approachable, polite, courteous and they left the site clean by the end of the day. Even neighbours have commented on the quickness, professionalism and quality of work of the Pool Craft crew.
Now we are enjoying our pool on a daily basis and don't regret for a second the decision to choose Pool Craft. The pool looks wonderful and we wish to thank all the staff of Pool Craft for the excellent service. Thanks Jason and Jim!
Highly recommended!
---
Dave & Chrystal
---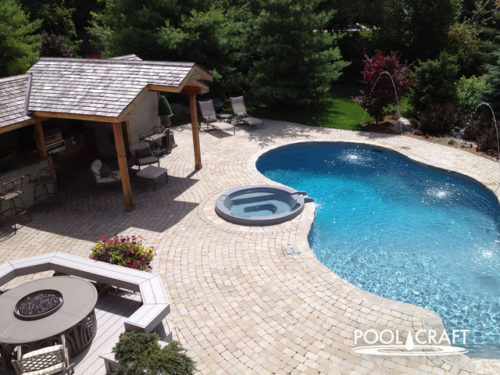 Hi Jason,
When I look back on the year, so many events have occurred, including being blessed with the ability to purchase a pool and the lifestyle that comes with it. You will not believe how much I miss the pool. In fact, I can't believe how much I miss the pool.
I would like to take this opportunity to thank you. Not only are we the proud owners of a beautiful Pool Craft pool, but you are definitely a man of your word. Your gesture of minimally charging us for the safety cover, as well as remembering our conversation regarding cleaning and closing, has gone a long way.
The answer to your question a couple of months ago while sitting in our family room, "Are you happy with the product and the service?", can be answered with absolute honesty…YES, 100%.
We would highly recommend your company and wish you and everyone involved in Pool Craft nothing but success in the future. Even our neighbours are impressed with our pool, including those with pools themselves.
Can't wait for spring!
---
Jennifer, Sukey, Serena & Andrew
Newmarket
---
If you are thinking about a pool, please do yourself a favor and use Pool Craft. From start to finish, this company provided A1++ customer service.
Rick is one of the most customer focused people I have ever had the pleasure of working with.
We are so happy with the pool, the patio and the entire process. We HIGHLY recommend Pool Craft!!!
---
Dave
Newmarket
---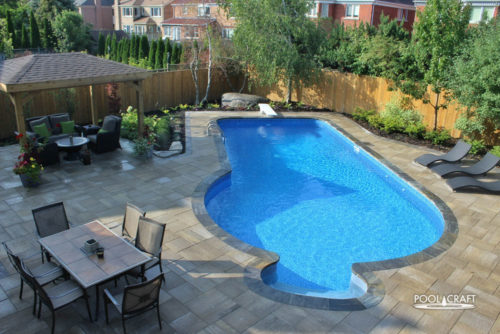 Amazing job. An absolute pleasure to work with. Very pleased with the results. Great work. Great people.
---
Parisa
---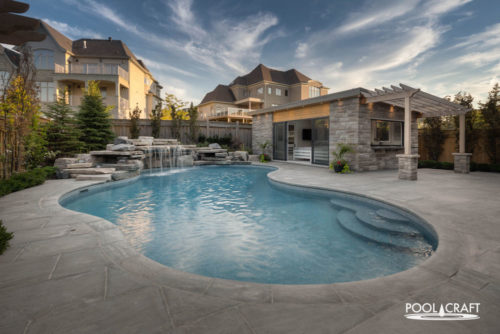 When looking for a company to build our pool we cared about 3 things: Their ability to do it on time; their ability to do it on budget and their responsiveness to our needs.
Pool Craft was by far and away the most customer centric and professional company that we dealt with that not only met our expectations, but exceeded them. They were they only company that volunteered to take us to visit clients homes to see their craftsmanship. They were the only company that had a project plan in place letting us know the start and end date for the job. And, they worked within our budget to build the pool of our dreams. John was readily accessible day and night and cared as much about the project as we did.
We're thrilled with how our pool turned out and would recommend Pool Craft to anyone interesting in building their dream backyard.
---
Marc G.
Aurora
View Project
---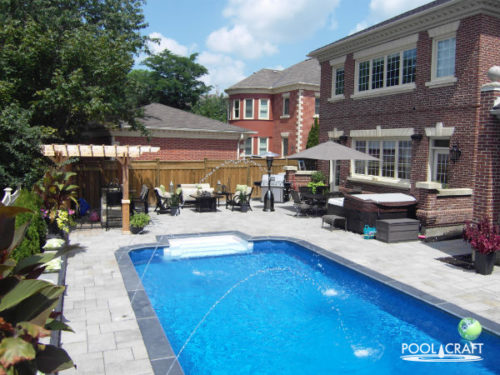 We chose Pool Craft to build our pool and to design and landscape our backyard.
The team was incredibly efficient and professional, they finished the entire backyard within a month. Our backyard is our oasis, we are extremely happy with the way it looks.
We appreciate the attention Pool Craft has given us before, during and after the construction of our pool.
Thank you again Pool Craft for everything!
---
Sophie L.
Richmond Hill
---
From the moment we met Rick and Chris, we knew we were in good hands. They're great and we love our pool and new oasis! Their communication is excellent and we were kept up to date on progress and what was happening at all times.
With a project this size, people warned us about what a "nightmare" the process this would be. Our experience was vastly different, and even if there were hiccups, they were quickly rectified. We would highly recommend!
---
Montymann
Vaughan
---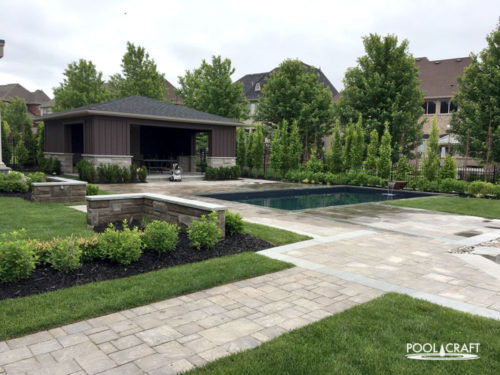 We are first time pool owners, and I have to say that our experience with Pool Craft has been amazing from our first contact with Jason all the way to our recently completed 'Pool School' session with Chris. Through the entire process, we were ALWAYS afforded all the time we needed to decide on issues and details along the way. We have numerous friends that have told us horror stories about their pool installations over the years – which just makes Pool Craft that much more rewarding to deal with. They have a no BS approach to everything, and we appreciate it. We highly recommend this company, and a special salute to Chris K for his incredible service while taking care of us every step of the way.
---
Tony
Aurora
---