If you're thinking about installing a swimming pool in your backyard, you've probably already started asking questions about what type of pool will suit best for your situation.
Building a swimming pool is a significant investment – and by making the right choices in the early stages of your planning you can ensure that you'll get years of satisfaction out of your backyard's newest star attraction!
4. A Luxurious Look
Looking for a pool material that has a touch of style and elegance? The wide variety of colours and patterns available for vinyl liners gives you the chance to build the look you want so that your pool can be a natural, elegant extension of your patio and backyard.
Installing with vinyl also gives you the freedom and flexibility to use many water features, such as underwater lights, spillover spas, and more.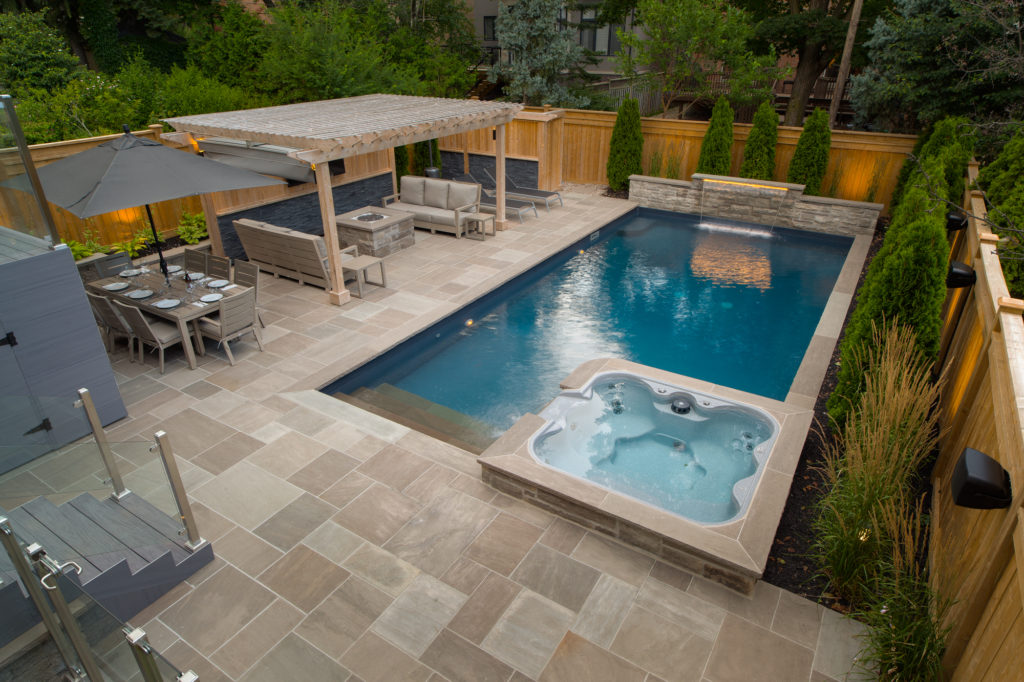 3. Durable, Flexible & Easier to Maintain
Picking a solid material is important for keeping maintenance and repair bills in check. Find a crack in your concrete or fibreglass pool and you can count on a hefty repair bill coming your way. With a vinyl pool, the material lends itself well to quick repair jobs. Vinyl can stand up to some very difficult weather situations as well, such as the harsh Canadian winter.
The smooth surface of vinyl helps limit the buildup of algae and dirt, which makes it a piece of cake to scrub the liner clean when needed. An added benefit of this material is that it is soft to the touch – meaning you aren't likely to have to dry any tears if someone bumps or scrapes a limb against the liner wall.
The durability of vinyl means you can expect your pool liner to last for a good 10 to 20 years, depending on how well you maintain it and the weather extremes you face in your region. Fortunately, when it finally is time to repair your pool liner, you can count on the job being fairly quick and easy – you might even use the opportunity to upgrade your pool liner with a new colour or pattern!

2. Easier to Install & Less Expensive
Since vinyl is very easy and predictable to work with, it is also very easy to install. There are very few limitations when working with vinyl – if you can imagine it, your pool builder can probably make it!
Construction of a vinyl pool doesn't require too much disruption. Besides, adding custom patio features or landscaping around your pool can be the extra touch that completes your backyard.
Lastly, even though vinyl looks fantastic, it isn't as expensive to use for building your pool as gunite, concrete or some other options. It's a win-win situation!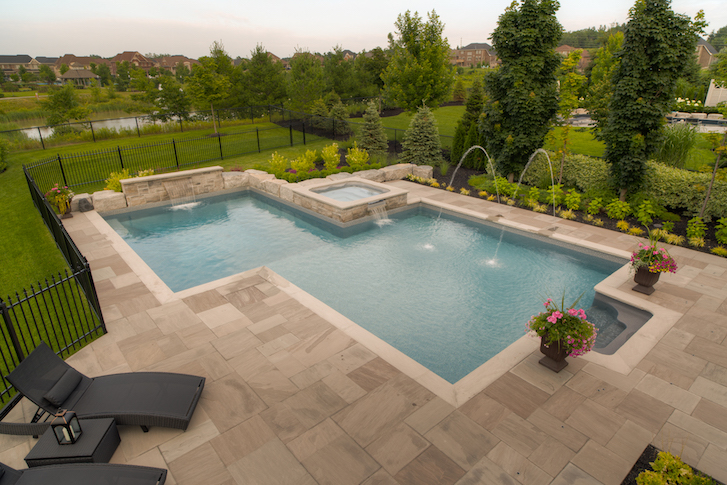 1. Completely Custom Designs
Best of all, with vinyl, a pool can be so much more than a basic circle or rectangle.
The building materials and flexibility of vinyl means that you can build just about any design that comes to mind. This opens the door for exciting new possibilities for creative patio areas that will look great for years.
You can work together with your local pool contractor to customize your pool so that it fits perfectly for your style and needs.
Want to learn more?
If you are interested in learning more about vinyl pools, or if you want to contact us about installing an inground pool at your house, simply get in touch with Pool Craft today to find out what we can do for you by calling 905-884-2720!