Does your backyard have you feeling like you can't achieve the landscape or pool design you've always dreamed of?
With more and more small lots in new subdivisions, we understand that it has become harder to picture and plan how to transform a backyard into a functional, comfortable, and beautiful space that doesn't feel too crowded or busy.
Discover eight ways you can achieve your backyard dreams with a little change of perspective:
1. Customizable Patios
From customized BBQ's and cozy lounge areas to outdoor fire pits, you can increase the functionality of your backyard, extending the usable hours of your property.
2. Cabanas & Outdoor Structures
At Pool Craft, our team can design and build any custom cabana or structure to suit your needs. Therefore, if you've always wanted a bar but also need storage for pool toys in a shed, we'll work to find a solution that will accommodate all of your needs if possible.
3. Use Vertical Space
If you have a fence around your yard, consider using vertical space to hang plants and decor. You can also mount pool skimmers and other tools on your fence, creating function.
4. Smaller Pools
As we're able to customize the look and size of each pool, we can design a pool that fits the shape of your yard. Your pool can be as large or as small as you would like it to be, as long as it meets all required permits.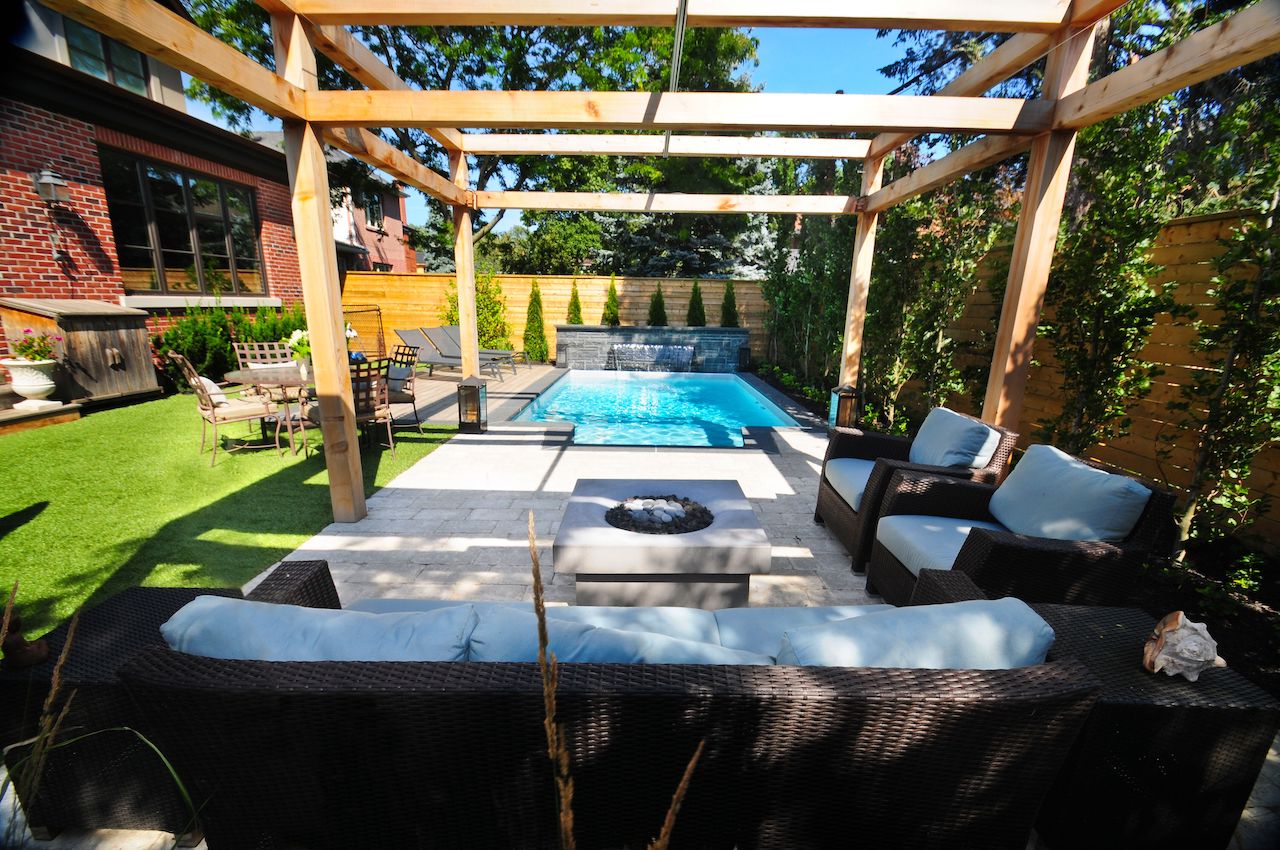 5. Contain Gardens
Instead of creating a large garden, cultivate smaller gardens in pots. This will help you to save ground space but will still allow you to add greenery into your yard.
6. Landscape Lighting
By illuminating all the right parts of your yard, you can give the appearance of a larger space. Consider investing in beautiful landscape lighting that highlights all of the best features your backyard has to offer.
7. Fire Pits & Tables
If you simply don't have room for a pool in your yard, the next best thing is a fire pit. A fire pit or fire table can be a compact way to add a gathering and entertainment feature to your backyard without losing too much grass or deck space.
8. Water Features
Waterfalls and water features can be incredibly calming, whether flowing into a pool, hot tub, or bird's bath. By adding a water element into your yard, no matter what kind, you can introduce a zen and peaceful vibe that will make space feel more open.
Contact Pool Craft Today
As pool and landscaping professionals with years of experience, the Pool Craft Team is able to customize solutions that can fit your unique space. With a sharp eye for design, we can develop a blueprint for your project that considers your space concerns.
With the right materials and layout, your backyard can feel larger and more welcoming. All it takes is a little imagination, proper planning, high-quality products, and hard work.
Get started!
905.884.2720