2017 has been an awesome year for new custom swimming pool installations at Pool Craft!
We're proud of the projects that we've been able to work on this summer, and would like to share some of the incredible post-completion images with you.
Scroll down to take a closer look!
Sandy Ridge
This cozy backyard pool comes complete with a spill over spa and attached patio area, ideal for relaxation during long, lazy summer evenings.
Vinyl Salt Water Pool & Spa
4′ Sheer Descent Water Feature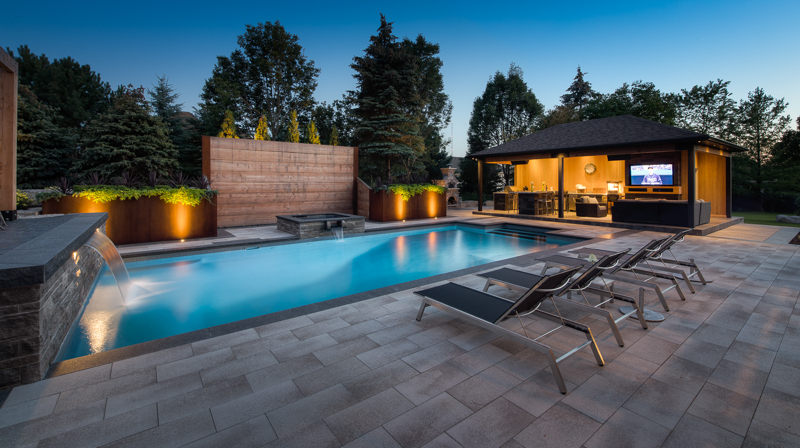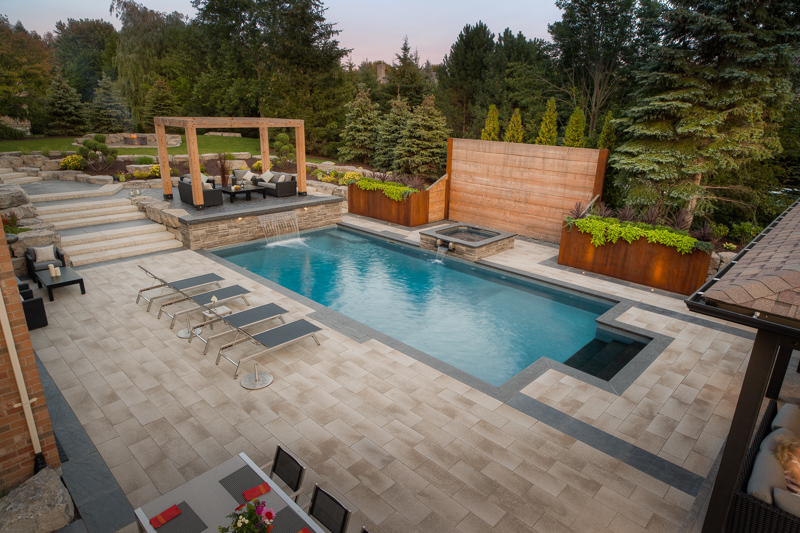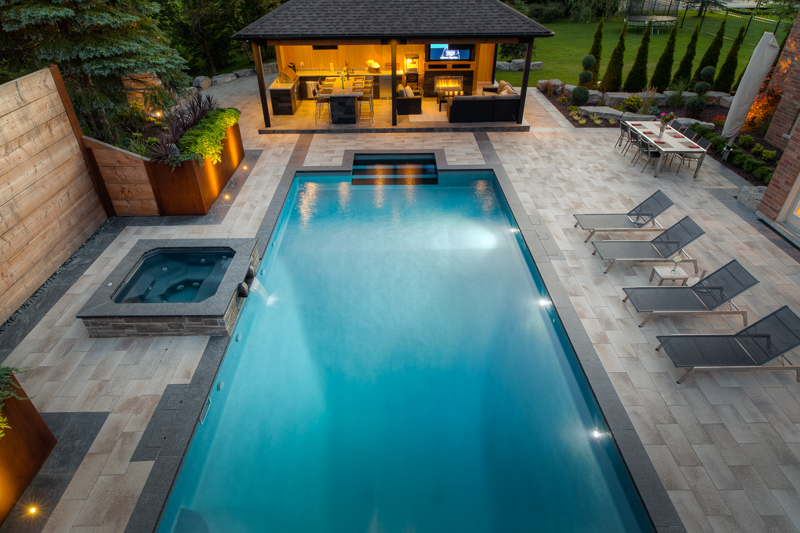 Austin Rumble
This backyard is perfect for hosting family and friends and gives a clean modern feel with the symmetrical design and placement of the cabana and pool.
20×40 pool
Built in collaboration with Cedar Springs and Techo-Bloc.
Two 4′ Sheer Descents with LED strip lighting at the mouth of the water feature.
Custom bench in deep end of pool for relaxing in water and enjoying fire features
Full indoor/outdoor cabana with a BBQ station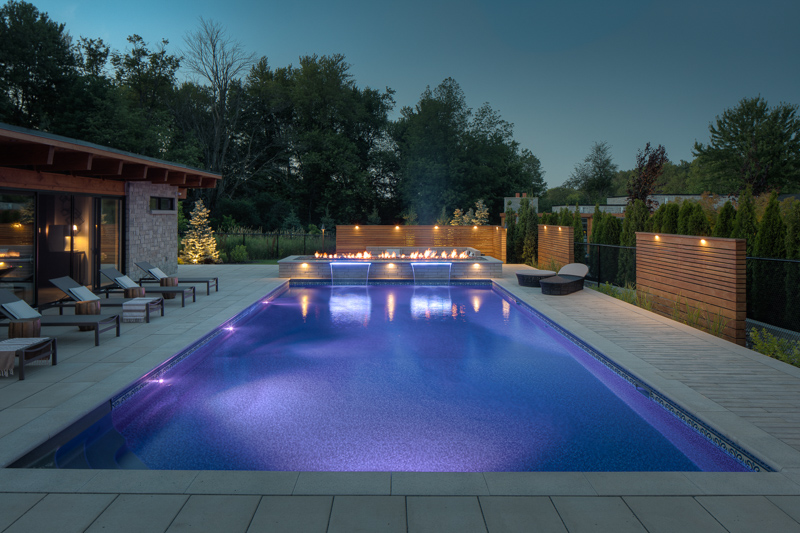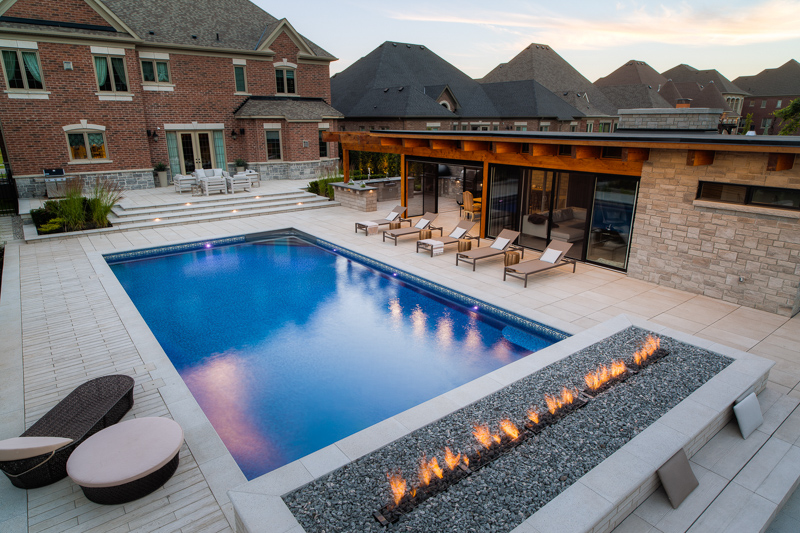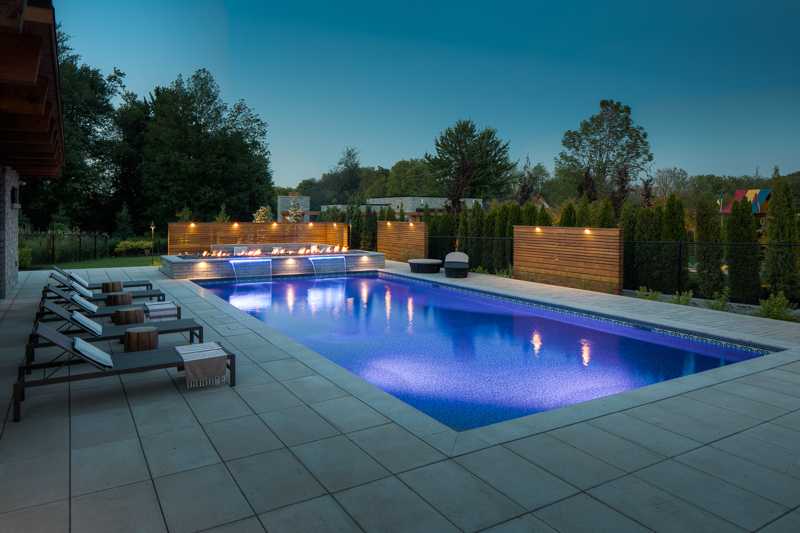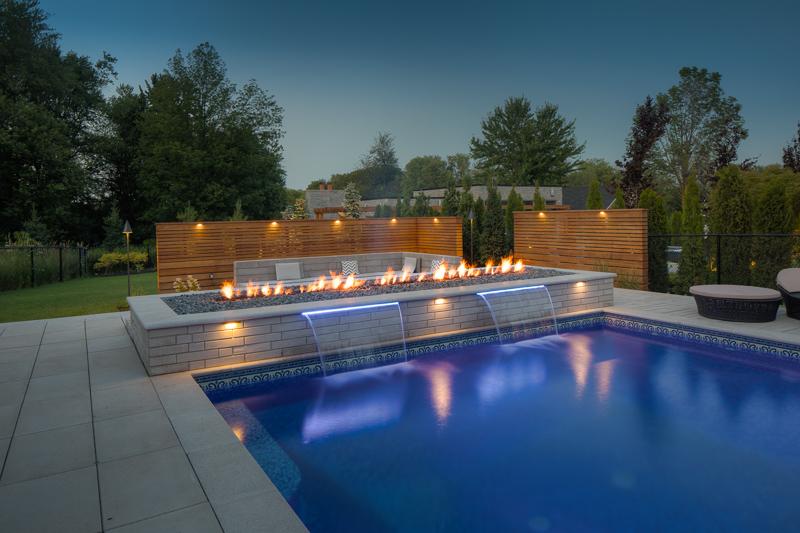 Bedford Park
An elegant backyard pool that makes excellent use of the available space to include a sheer descent water feature, a spillover spa, custom landscaping and room for seating on the patio.
16×32 Rectangle Pool with Spillover Spa
6′ Sheer Descent Water Feature
Banas Slate Grey Coping and Banas Slate Grey Flagstone Patio
Fiberglass Spillover Feature and 6′ Sheer Descent
Pentair Pool Equipment: 2x Intelliflo Variable Speed Pumps, Cartridge Filter, 250 BTU Heater, IC40 Intellichlor Salt System, Pentair Easytouch 4 with Screen Logic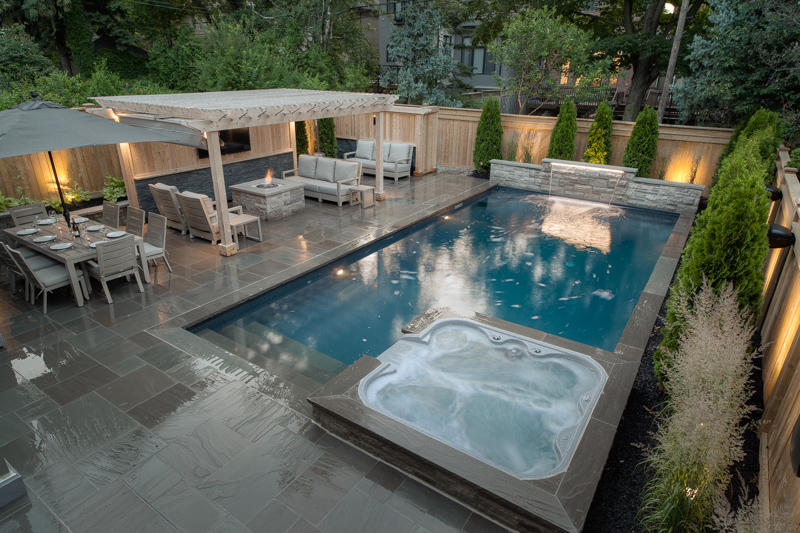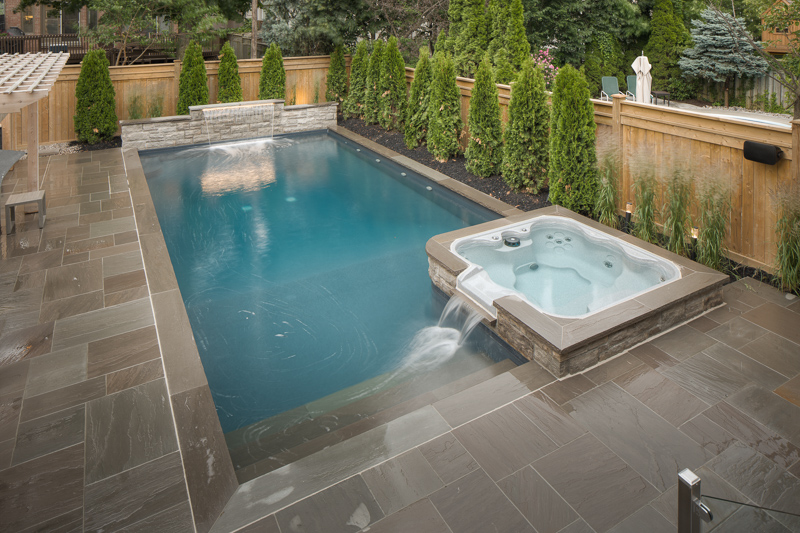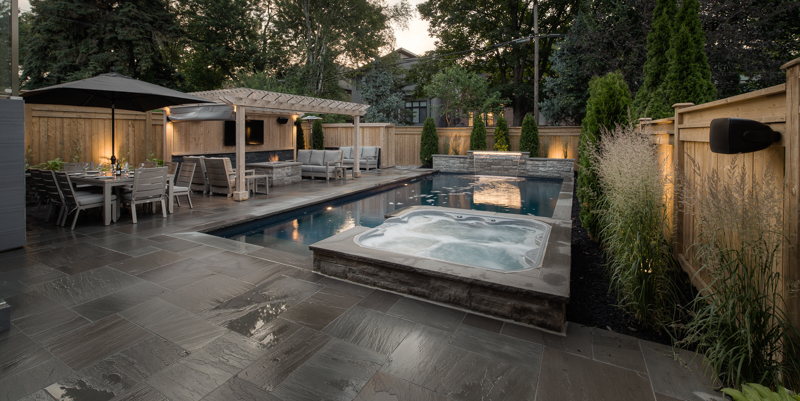 Country Club
A custom shape offset rectangle pool with deck jet and sheer descent water features. This pool comes to life at night as well, with beautiful Globrite lights.
16×38 Offset Rectangle Pool with Spa
Pentair Pool Equipment: IC40 Intellichlor Salt System, Cartridge filter, 2 Intelliflo Variable Speed Pumps, Easy Touch 8 with Screen Logic Control  (allows owner to control pool settings by phone)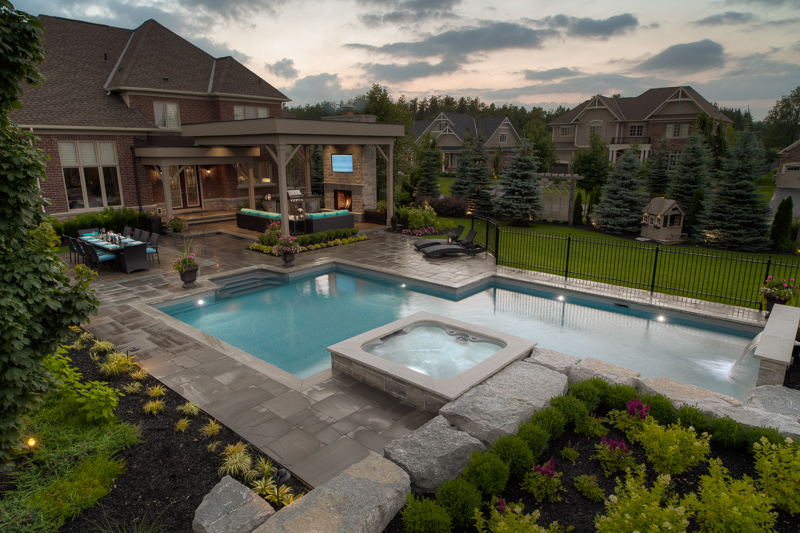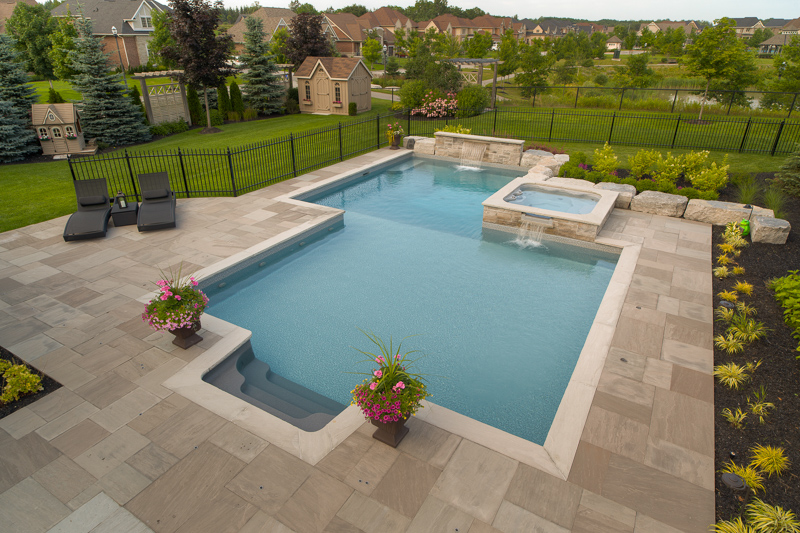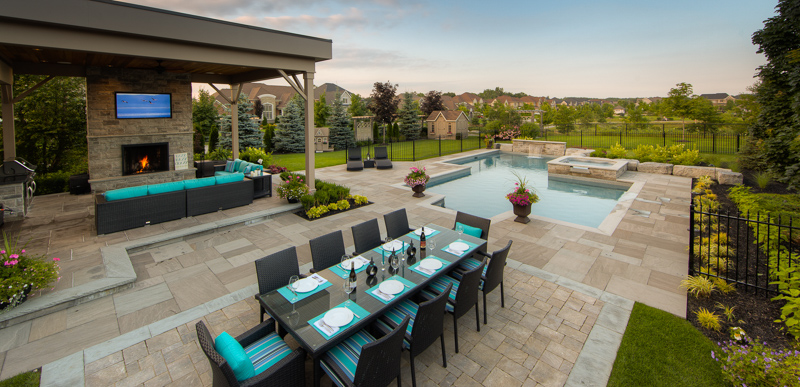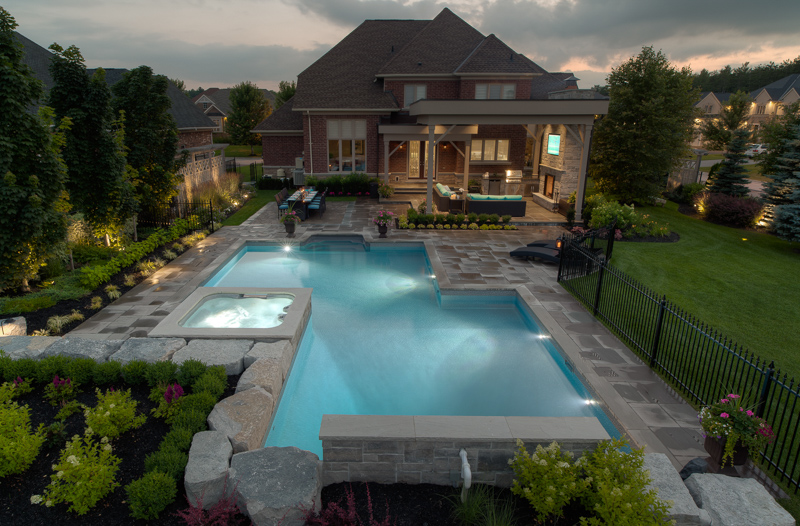 Kennedy
Pool Size & Shape: Custom L with Two-Tier Shallow End. Steel vinyl over Steps.
Liner: Riverstone, no border. Texture over Steps.
Pool Equipment: Intelliflo, 520 Filter, 400 BTU Propane Heater, Off-Line Chlorinator with UV, EasyTouch 4, NO Screen Logic, Polaris Booster Pump
Water Features: Polaris Pressure Side Cleaner
Basketball & Volleyball Nets, Diving Board, Winter Cover, Cedar Decking
Custom Wood Cabana with Full Entertainment Area
4 colour Globrights with 300W Transformer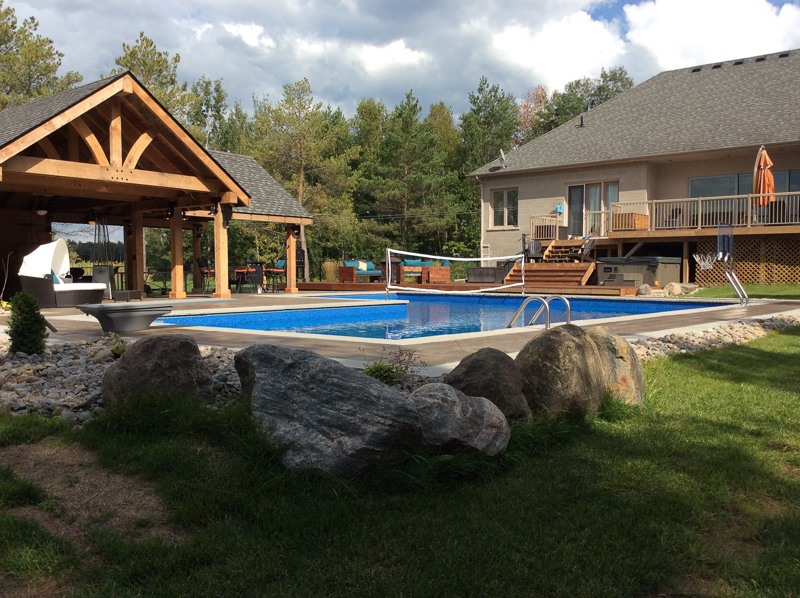 Spadina
This pool renovation project really improved the backyard in this small residential backyard. The new swimming pool and custom patio complete with landscaping now will give the homeowners more reason to enjoy their property!
18×36 Monte Carlo
Pool Renovation Included: Pool Interior, Liner, Tracking and Step, Removal of Old Patterned Concrete
Imperial Black Rock Faced Coping
Oaks Montarey Wicker Coloured Pavers
Medallion Liner (no border)
 Before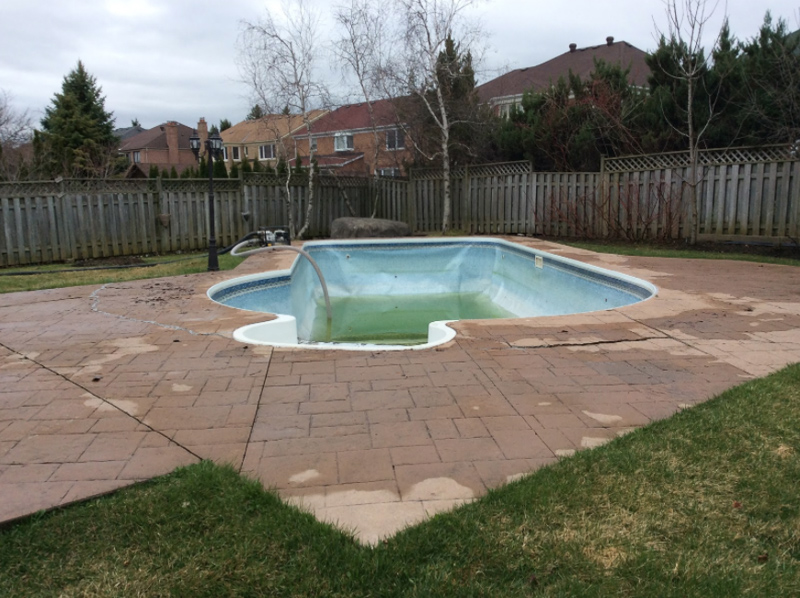 After