A New Year is upon us!
January is always an exciting time for planning and predicting for the coming year. Our industry has evolved by leaps and bounds over the last few years. It is very inspiring for both clients and businesses! Products have evolved, homeowners' wish lists have matured, and of course, trends have changed.
Whether you call it Hygge, Pura Vida, or simply; living well, the focus going into 2023 is surrounding yourself with overall wellness.
"Now homeowners are maximizing and personalizing their outdoor space. Gardening, and just spending time in an outdoor space that you have created, relieves stress, and makes us feel more positive." Katie Tamony, Monrovia CMO and trend spotter, SUNSET
Whether you're looking to renovate, build, or simply accessorize, here are the backyard trends we're following into 2023.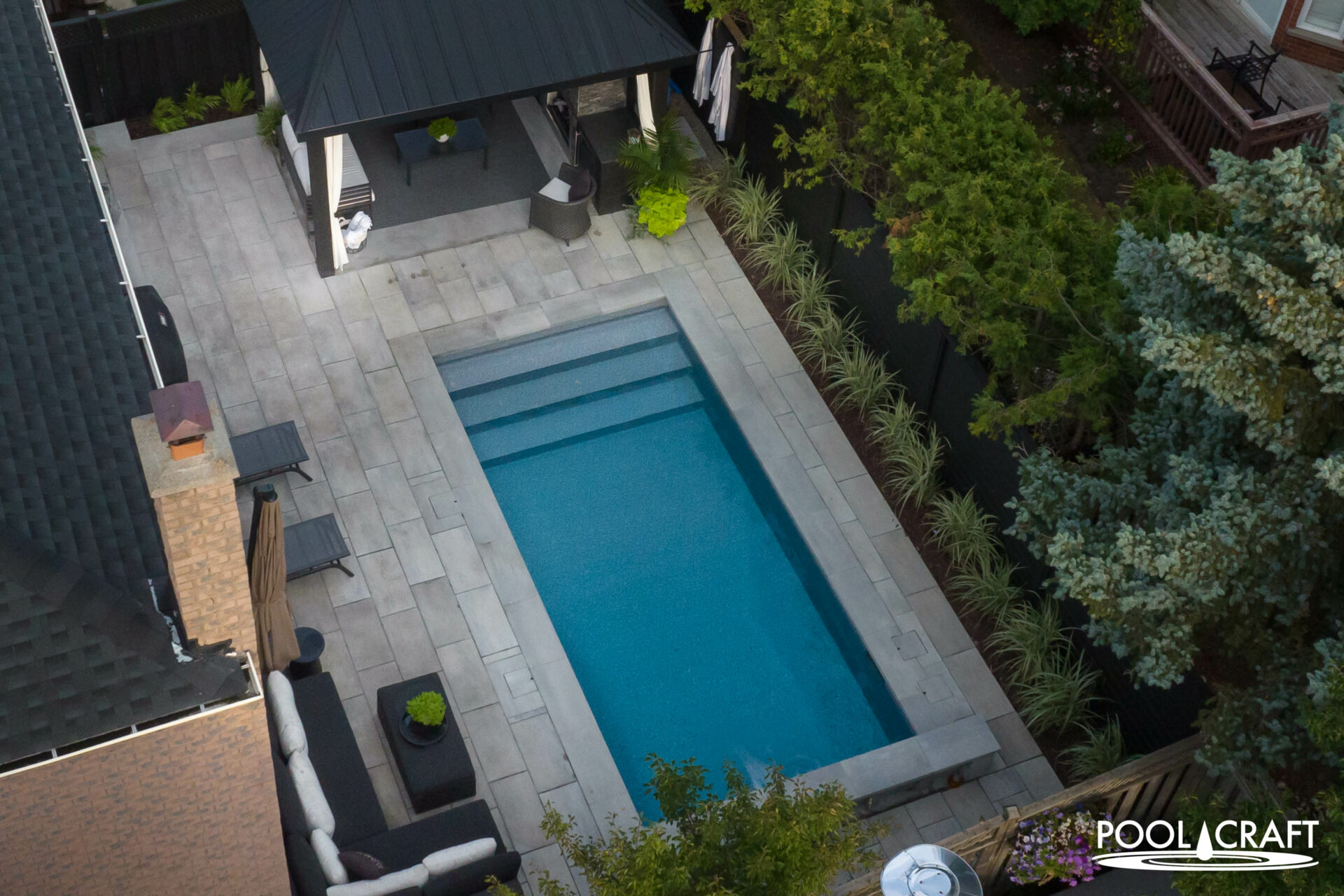 Opting for Smaller Pools That Pack A Punch
Opting for Smaller Pools That Pack a Punch
"Living small has definitely reached official trend status." – Jacquelyn McGilvray and Erica Reitman, HGTV
Backyard living is on the rise, but available square footage isn't. Ontario backyards have decreased an average of 4ft over the last 7 years.
Although space can often be limited, homeowners are looking to create unique, multi-purpose backyards, including a pool. Opting for a smaller pool means owners can maximize the space around them with landscaping and outdoor living features as well.
A smaller pool still provides all the enjoyment that comes with pool ownership; Swimming lessons, games, parties, and a place to cool off can all be checked off the wish list! As a bonus, there is still room left over for living space. Whether your budget allows for a structure, a patio, or a built-in kitchen, there is still room to roam!
Working with a designer on custom pools and structures makes living large on a smaller scale more feasible. Project Downing featured above is a 10ft x 22ft rectangle with steel steps. We're seeing more and more projects like this one. The structure is 10ft x 14ft.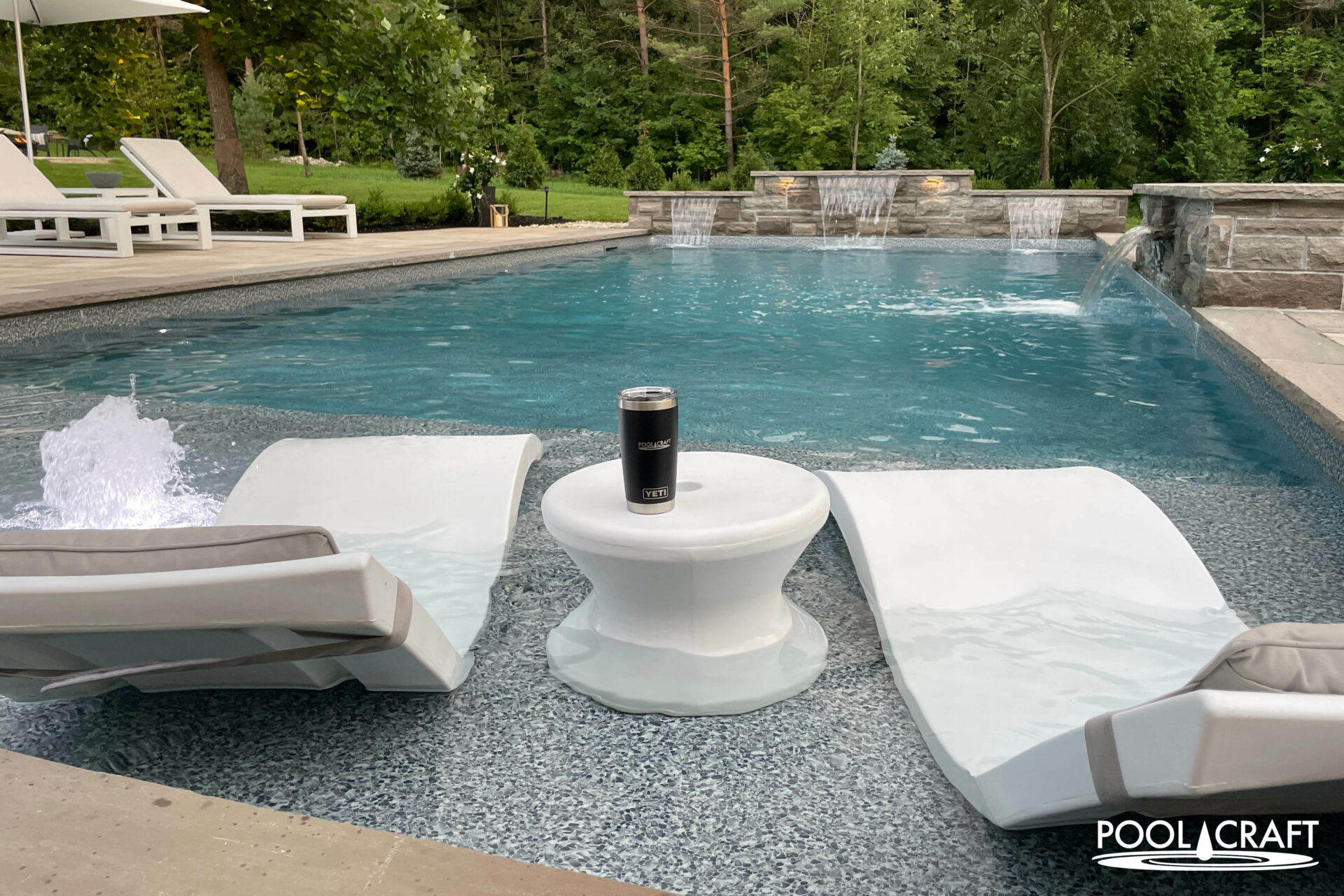 Full Print Liners
Full Print Liners
Replacing an older pool liner can change the look of your entire backyard. Liner design has changed so much over the last 8-10 years. If you are considering an update, you'll be pleasantly surprised at the options for 2023! The current trend is to forgo bordered liners for a seamless print. Today's colour palette also incorporates black, tan, and blue fleck. "Shimmer" hit the liner scene in 2020, and has grown in popularity. New for 2023 is Carrara Marble; a little shimmer, a little white, a lot stunning.
Ocean Midnight is pictured in the above Rolling Meadows project.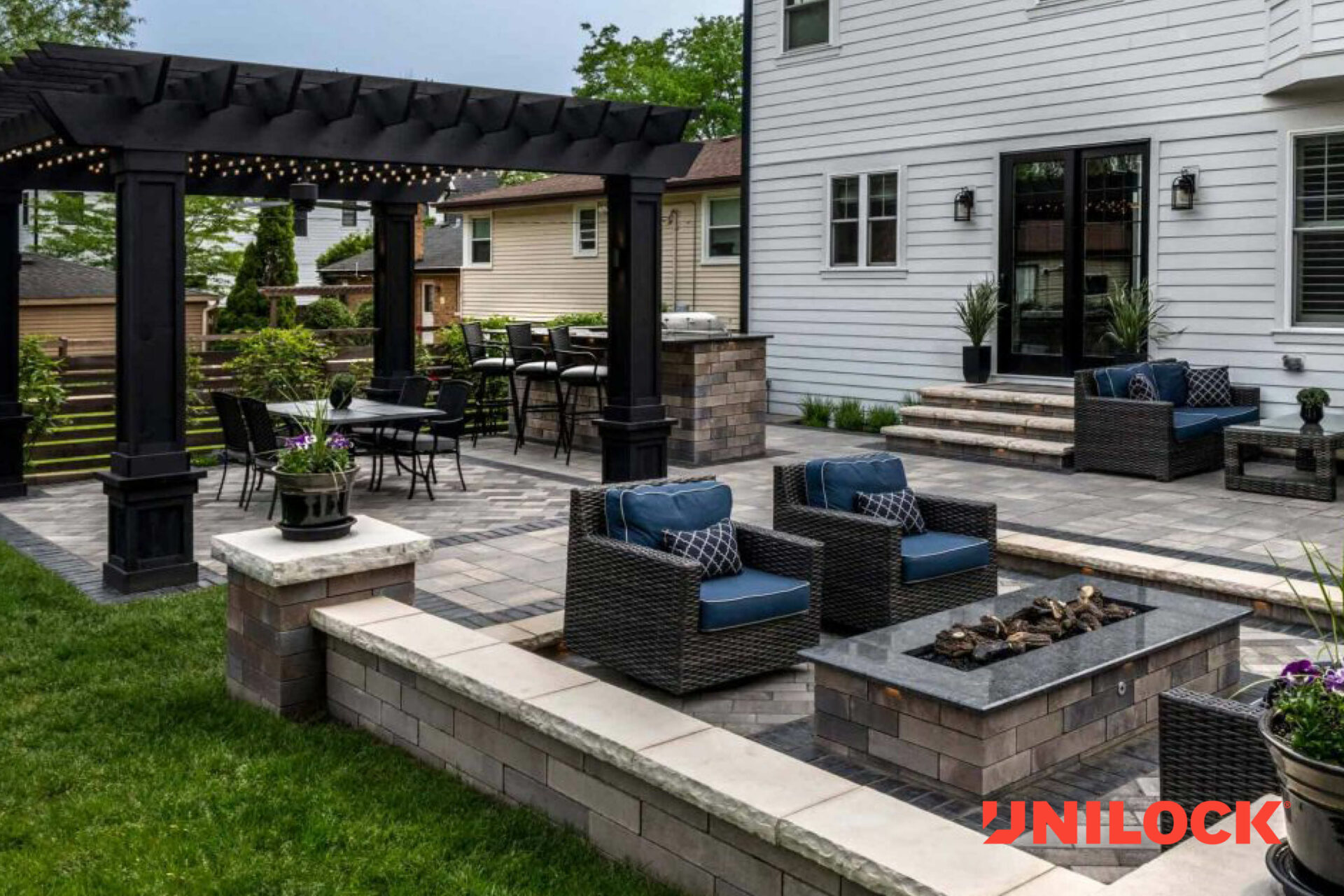 Hardscape Design – Patterns
Patterned tiles in exterior spaces are trending. Whether you go big or small, symmetrical designs help to personalize patios and other outdoor spaces.
A trend we've spotted rolling into 2023 is placing tiles in a random pattern throughout the patio which helps define the space. Using geometrical pavers or laying stone in a pattern adds texture and style. Walkways can be defined separately from open patio space simply by changing the layout of the same tile. Try a herringbone pattern, or change it up with a different shade of tile to mimic the look of an area rug.
A few of our favourite suppliers have great inspirational resources that can be found online at permacon, unilock, and banas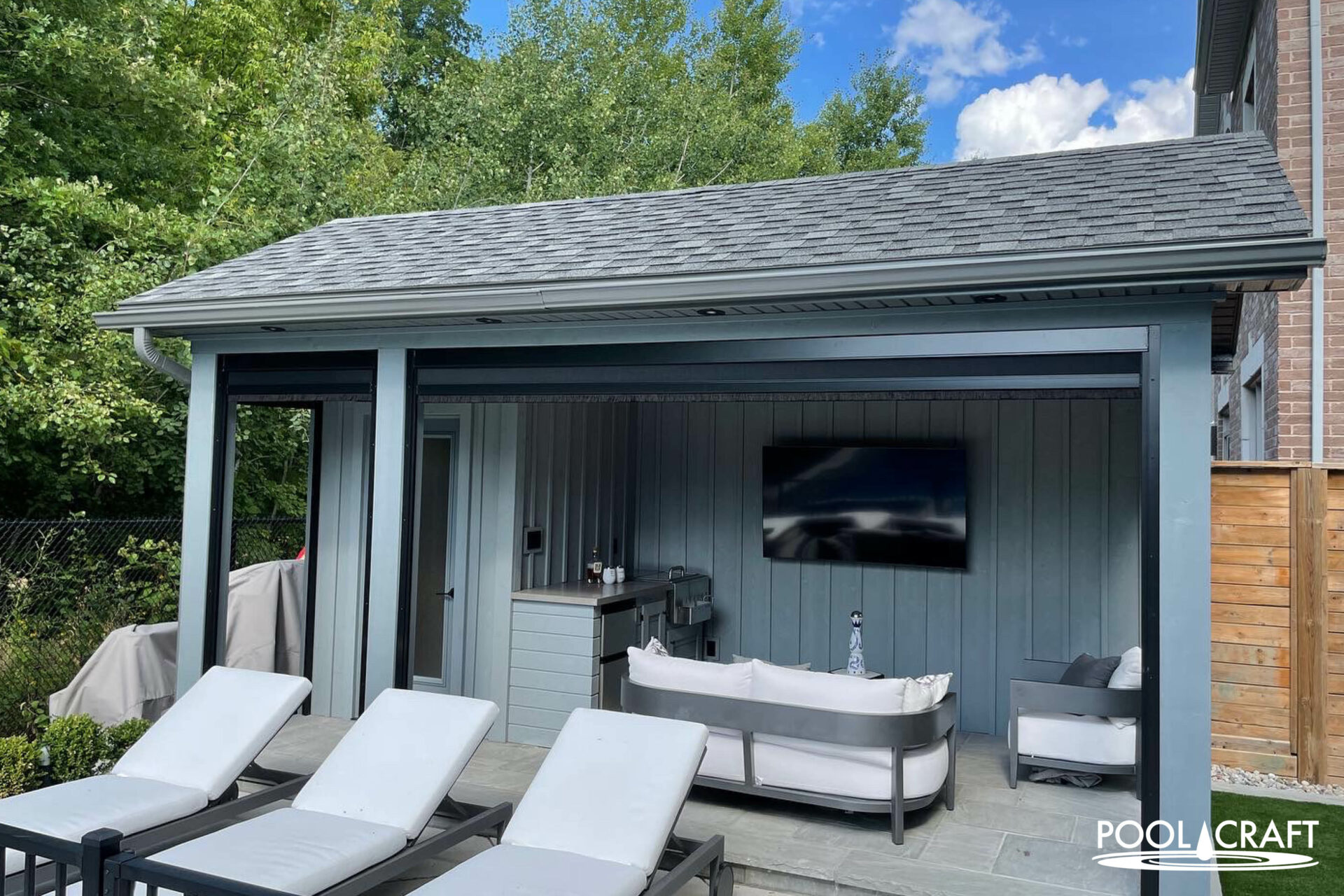 Boutique Style
Many customers want to bring boutique hotel design elements into their own space. Whatever colour palette appeals to you, there is a cozy, calm, and green undertone to 2023 outdoor style.
Modern outdoor furniture, such as couches and resort-style loungers add a luxurious, boutique feel. Tips from our team; avoid furniture that is too large for your space and buy quality furniture covers to protect your investment.
To make your space photo-ready embrace textiles such as rugs, cushions, and throws. Incorporating these into your outdoor living space will add a cozy, intimate feel to that boutique style.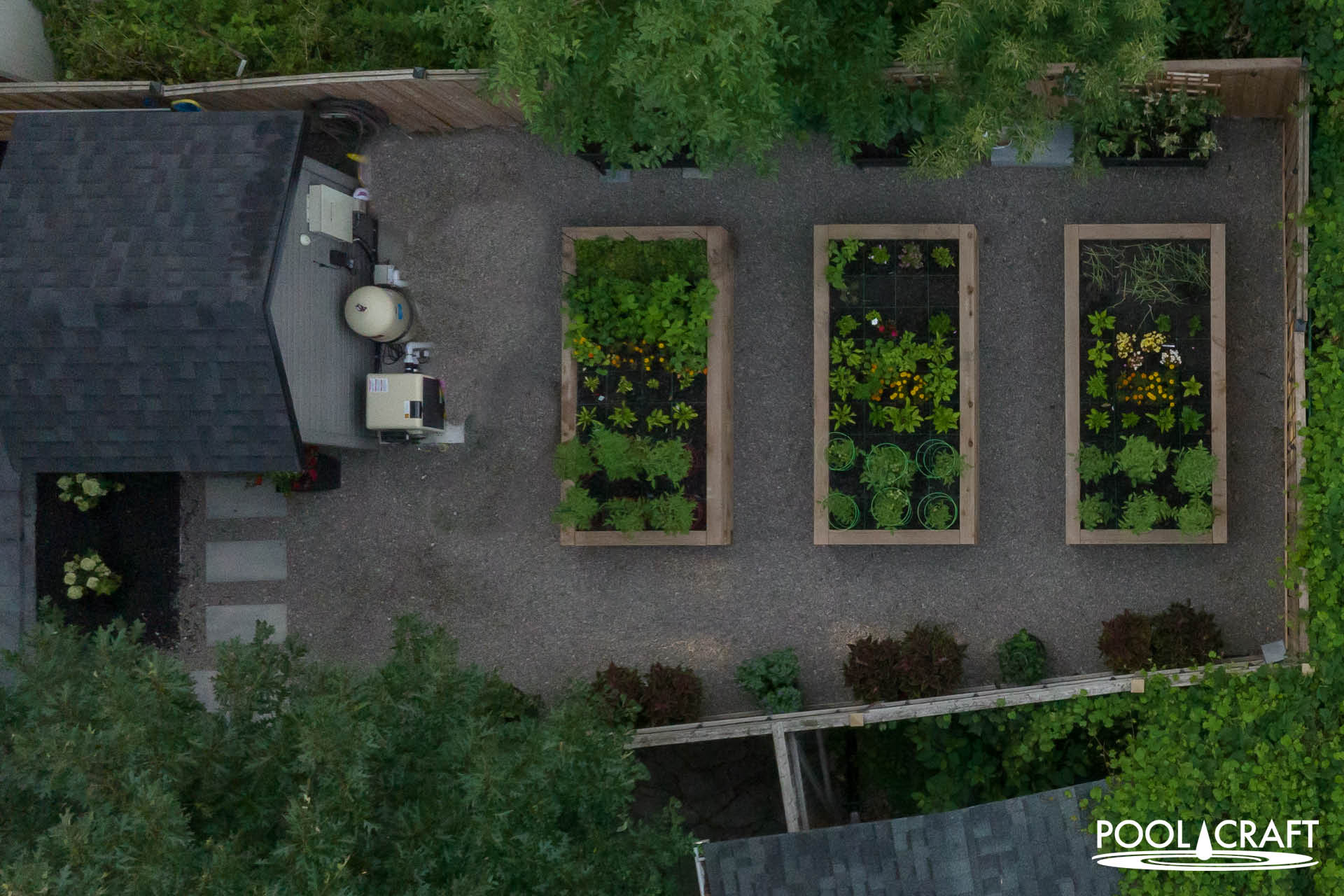 Planting Peace of Mind in 2023
The classic look of streamlined gardens and softscapes is a trend we've seen over the last few years. Hydrangeas, ornamental grasses, and boxwoods are timeless and will continue to dominate softscapes.
Narrow, upright trees, called Columnar or fastigiate trees have also grown in popularity. These are available in a variety of heights, and are mainly selected for tight spaces in the landscape. They provide some privacy without requiring the space that traditional trees would need. Some good options include Pyramid Oaks, Purple Pyramidal Beech, and Hornbeams.
New trends that have been popping up, colouring our landscapes with a bit more variety include raised gardens and lovely lavender!
Raised gardens are uniform and compact in design and offer a backyard-to-table experience sure to wow your guests and educate your little ones. Did we mention they are a cost saver in the long run? If space is an issue, try vertical gardening. Just remember to water these often.
Lavender has also come back in a big way! This large fragrant perennial is hardy, a bit wild, and easy to care for. Add it to terra cotta pots for an updated 2023 vibe!
Paint The Fence
Maybe not a trend yet, per se, but it's definitely a great idea and one we feel is worth promoting! Perhaps next year it will genuinely make the trend list and Pool Craft can add "trend-setter" to our list of accolades ;).
Painted fences pop! If you have hesitant neighbours, not up for sharing the cost of replacing or updating a shared fence – a simple and inexpensive option is to update your side with a coat of paint! This particular client (photo above) chose a sleek black paint and the result is stunning!
Our final tip for 2023 – Enjoy the design and planning process! If you would like to work with our design team send us a request, we're here to make backyard dreams come true!