Ever since the very first swimming pool, taking care of the water has been a very manual operation.
Want to keep the water balanced? Well, then you'll need to scoop up some water and run it through a test.
Curious about the temperature of the pool water? Run outside and check the thermometer.
As everything these days, that has all changed, as the rapid advancements that we've seen in wearable technology are beginning to hit the pool industry. Now, with an automated system, you can monitor and control many different functions of your swimming pool while on the go using your mobile phone or smartwatch.
Talk to your Pool with Your Phone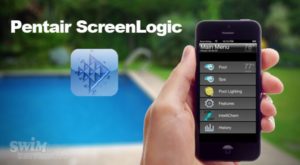 Automated pool systems have been around for some time now. Timers could turn on pool lights, activate maintenance cycles and other simple tasks.
Pentair is one of the companies that has recently developed a mobile app that you can use to communicate with your pool via WiFi or cellular data.
After you set up the connection between your phone and your automated pool systems, you have complete control. Whether you are relaxing in the house or about to drive home from work, you can check the condition of your pool, activate cleaners or pumps, adjust the temperature and much more. This is the wave of the future for pool systems.
New Materials & Design Styles
The future of swimming pools isn't all just about high tech gadgetry. Creative swimming pool contractors and designers and always looking for unique new options.
In the past, you probably needed to settle for a rectangular pool. Now all sorts of fantastic shapes are possible, using both computer-based design programs and more flexible building materials.
Likewise, each year there are plenty of new options for materials that are sturdier, longer lasting and more visually-pleasing than materials you might remember from your childhood.
Lastly, pool design is getting more and more innovative. There's more to a modern pool than the shallow end and the deep end – splash decks, pool benches, infinity edge pools and a large variety of water features means that your pool can be personalised to your liking.
Ask the Experts
Contact Pool Craft to learn more about how pool automation technology can help you streamline pool maintenance, and to help you get the most out of your swimming pool. Our knowledgeable experts can let you know what is necessary to get your pool up to speed with this exciting, cutting-edge technology.
We can also inform you on how we can use modern pool design and materials to make the pool of your dreams!