Swimming pools are fantastic to own and can provide families with countless hours of enjoyment and entertainment.
However, you must make sure your pool is safe to be around when it is not being used, and when being used by any person – supervised or unsupervised.
"Every owner of a private swimming pool and whirlpool has an obligation to provide a safe environment for every user of the pool. This obligation has been very clearly identified and affirmed by court decisions across Canada." – Halton Region, Pool Safety Standards
At Pool Craft, we've collected some key information about pool safety covers and Ontario pool safety laws for your reference.
Pool Safety Laws In Ontario 
An Act respecting safety around swimming pools
Her Majesty, by and with the advice and consent of the Legislative Assembly of the Province of Ontario, enacts as follows:
1. In this Act, "swimming pool" means an in-ground swimming pool.
2. (1) Subject to section 3, every owner of a swimming pool shall ensure that a fence is constructed and maintained around the area of the swimming pool.
(2) The owner of the swimming pool shall ensure that the fence surrounding the swimming pool is constructed and maintained in a manner that is sufficient to keep children away from the area immediately around the pool and is equipped with a gate that locks.
(3) The owner of the swimming pool or, if the occupier of the premises where the swimming pool is located is not the owner, the occupier shall ensure that the gate is kept locked at all times except when an adult is present in the area immediately around the pool.
The Responsibility of Owning a Pool
The owner of a pool is responsible for the safe operation of the pool, including family, friends, guests, and anyone who may wander into the pool area or onto the pool cover.
Therefore, all pool owners must practice risk management and be aware of how to react to emergencies if they occur.
If a serious injury occurs, call 9-1-1.
Children, Pools, & Prevention of Drowning
Too often, victims of drowning are the children or relatives of pool owners.
As children are naturally curious and love playing outside, falling or flipping into a pool (or pool cover) unintentionally is a very real risk. Therefore, children should always be supervised whenever in a pool or even when just in a yard with a pool.
It is critical to remember that most young children aren't able to swim, nor do they have the technique or strength to keep themselves afloat.
It is also important to know that children who do know how to swim are still at risk for drowning, as many factors can hinder their ability to stay afloat.
"A major contributing factor in the deaths of children is the lack of adult supervision. For children under 5 years old, 85% were unsupervised when they drowned. For children aged 5-12, 61% were unsupervised and in the age group from 13-15, 34% were unsupervised". – Halton Region, Pool Safety Standards
If this seems like an alarming statistic, that's because it is, and speaks volumes to the need for supervision of your private pool.
"Drowning is the second leading cause of preventable death in Canada amongst those under 5 years. Preventable, because these deaths don't have to happen." – Halton Region, Pool Safety Standards
Prevention of Drowning In Adults
Drowning is not unique to children and youth. Adults of all ages are also at risk, especially when unsupervised, going for a swim alone.
Below are two of the most common reasons adults may experience difficulty while swimming:
Alcohol Consumption
Alcoholic beverages are involved in approx. one-third (36%) of all Canadian preventable water-related deaths, and half (48%) of fatalities where the victim was 18 to 34 years of age.
Shallow Diving
Divers risk hitting the bottom head-first, potentially knocking themselves out or causing brain injuries.
Pool Safety Checklist
Please consult Bill 74, Swimming Pool Safety Act, 2006, for full information.
Pool Covers
Pool covers not only protect your pool from debris but also protect anyone from falling in.
Pool Craft's safety cover installation guidelines sheet will provide some important information for anyone having a safety cover installed on their swimming pool.
Proper Equipment
Is your pool equipment in good working order? Check your equipment regularly to ensure everything is working properly and at its safest.
Slipping Hazards
Are there danger zones, such as slipping or tripping hazards where incidents tend to occur or may occur? This could include slides, rocks, diving boards, etc. Monitor these areas closely and ensure swimmers are aware of the risks.
Pool Fence
Is your pool fencing and locking system adequate? Always check that your fence and locking system is in proper working order when you leave your home or your yard is unsupervised.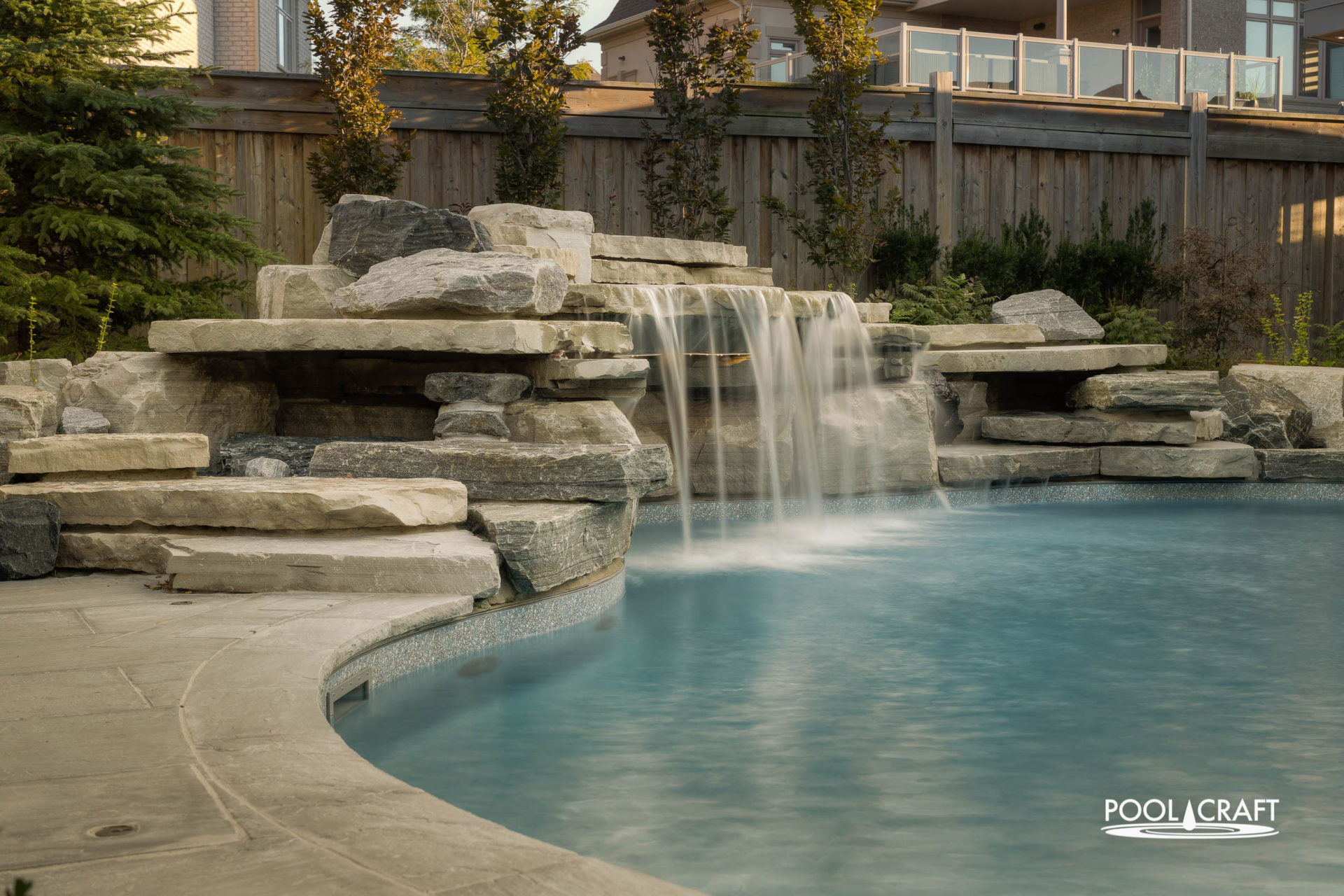 Contact Pool Craft
Pool Craft specializes in safety cover installations and can provide you with a quality, professionally installed safety cover to provide peace of mind for your family and its safety over the months the pool is closed.
With a variety of colour choices, a safety cover can also give the backyard a far superior look than a traditional water bagged or lock-in pool cover.