We've officially moved into a post-pandemic world (fingers crossed), which means entertaining others in your own backyard space has become a reality again!
So, if you're ready to open up your gates and share your stunning backyard oasis with your friends, family, and peers, we have some tips on entertaining in your outdoor living space.
As we all might be a little rusty with our party planning and entertaining, we've collected the most crucial steps that will make your backyard get-together memorable, while limiting the spread of germs.
First thing's first: You'll need to make a few important decisions before hosting anyone:
1. The Guest List
Consider your capacity. How many people can fit in your outdoor space?
Remember that your guests may need to visit the lavatory during their visit, and assuming this space is indoors, consider how you will encourage them to sanitize before and after use.
Add disinfectant wipes and post a sign encouraging guests to wipe the door handle, taps, toilet handle, and seat before and after use. Also, instead of a guest's towel, use disposable wipes.
Who is invited? Be clear with your guests to prevent any misunderstanding. With social distancing boundaries still suggested, 'the more the merrier' isn't always best.
Specify if guests are welcome to bring spouses, kids, friends etc. and be sure to communicate the guest list to everyone.
While you may be comfortable with 20+ guests in your outdoor space, your guests may not be.
Timing is everything: Will your event be a 2-hour gathering? 3 hours? 4 hours? Be sure to communicate your vision to your guests to prevent anyone from overstaying their welcome and putting you in a position where you're not prepared to continue hosting.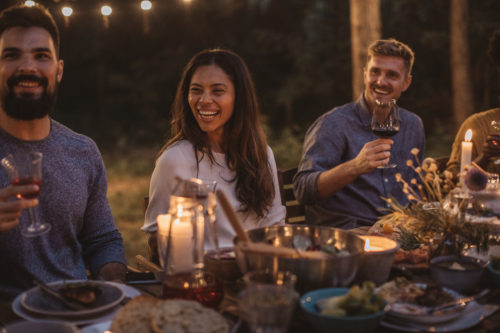 When extending the invite to your guests remember that some people still wear masks in public spaces. Be kind and supportive of each person's individual choice.
2. Prepping Your Pool
Will there be swimming? If so, how/where will guests change if needed? Remind them to bring their own towels, floatation devices needed and sunscreen. Consider having some travel-sized sunscreen tubes on hand for anyone who forgets to bring their own.
Before letting anyone dive into your pool, you'll need to make sure it's swim-ready.
Test for chemical levels, skim out any debris and make sure the deck area is clear of obstructions or tripping hazards.
Consider scheduling a cleaning with our awesome service team before the event for worry-free maintenance!
If you're going to have kiddies at the event consider investing in a pool noodle for each one. You can personalize them ahead of time, it's an added floatation aid, and they're a blast!
We found some other fun pool noodle ideas here also!
3. Pool Party Theme
While having a themed party isn't necessary, it sure is fun — especially after so much time apart.
By picking a theme, it'll make your planning easier when choosing what type of food you'll serve, what decorations you might add, and even what to wear.
Switch things up with unique themes like:
Vintage Surfing
Cabana Havana
Covid Hair Party
Outdoor Movie Night
Country Picnic
Bonfire Bliss
Olympic Games
4. Food & Drink
When hosting a backyard pool party, help keep people energized and hydrated with delicious food and drink options.
In a COVID-19 world, we encourage you to consider how you can limit germs from spreading toothpicks, individual plates, snack cups, and by putting names on everyone's drinks.
If the kids are included, be sure to stock up on kid-friendly snacks and drinks. Juice boxes are great for individual snacking, but can easily get mixed up. Consider having individual stickers available for easy labelling.
For your adult guests offer wine, beer, and non-alcoholic options. Instead of having a bar where guests make their own drinks and share bottles, jugs, etc. opt for individual pre-mixed bottles, cans, and tetra packs.
Be sure to try and find recyclable options to cut down on waste. Consider investing in cups that you personalize for each guest beforehand. This fun idea will add a layer of comfort so that your guests won't accidentally grab the wrong drink and also adds a great personal touch – and fun takeaway. Think of it as an adult loot bag!
Don't forget! You don't have to do everything yourself. You can ask guests to contribute. Veggie trays, fruit trays, appetizers, cheese plates, crackers, dips, and sweets are always welcome!
5. Playlist & Entertainment
It'll be the cherry on top to create a playlist that will get your guests in the mood for fun! Add some oldies, some one-hit wonders, and enough variety for all tastes in music.
Ask guests to provide a suggestion for your playlist. Perhaps something they listened to over the last few years that kept them energized and positive!
In addition to your playlist, consider what other entertainment you may be able to offer.
Will you add some fun toys or floaties to your pool?
Do you have lawn games you can put out (along with sanitizers of course)
Do you have a bonfire you can get started when the sun goes down? Smores are the original individual portion dessert!
Is there a game that you could put on your cabana tv? JackTV is a super fun platform where guests can use their phones to play a hilarious group game.
While you don't need to plan an air-tight itinerary, it's wise to have a general sense of how to keep everyone engaged.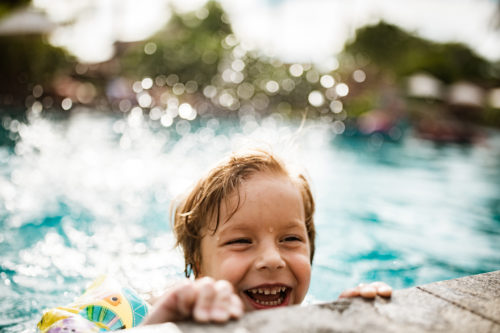 6. Relax & Enjoy
Finally, remember to enjoy every minute of your get-together! You've waited a long time for this, and you deserve it!
Take a dip in the pool, pour yourself a drink, show off your beautiful backyard, and soak in some great memories with your favourite people.
Cheers!